Aurora Spring Soccer Camp
---
---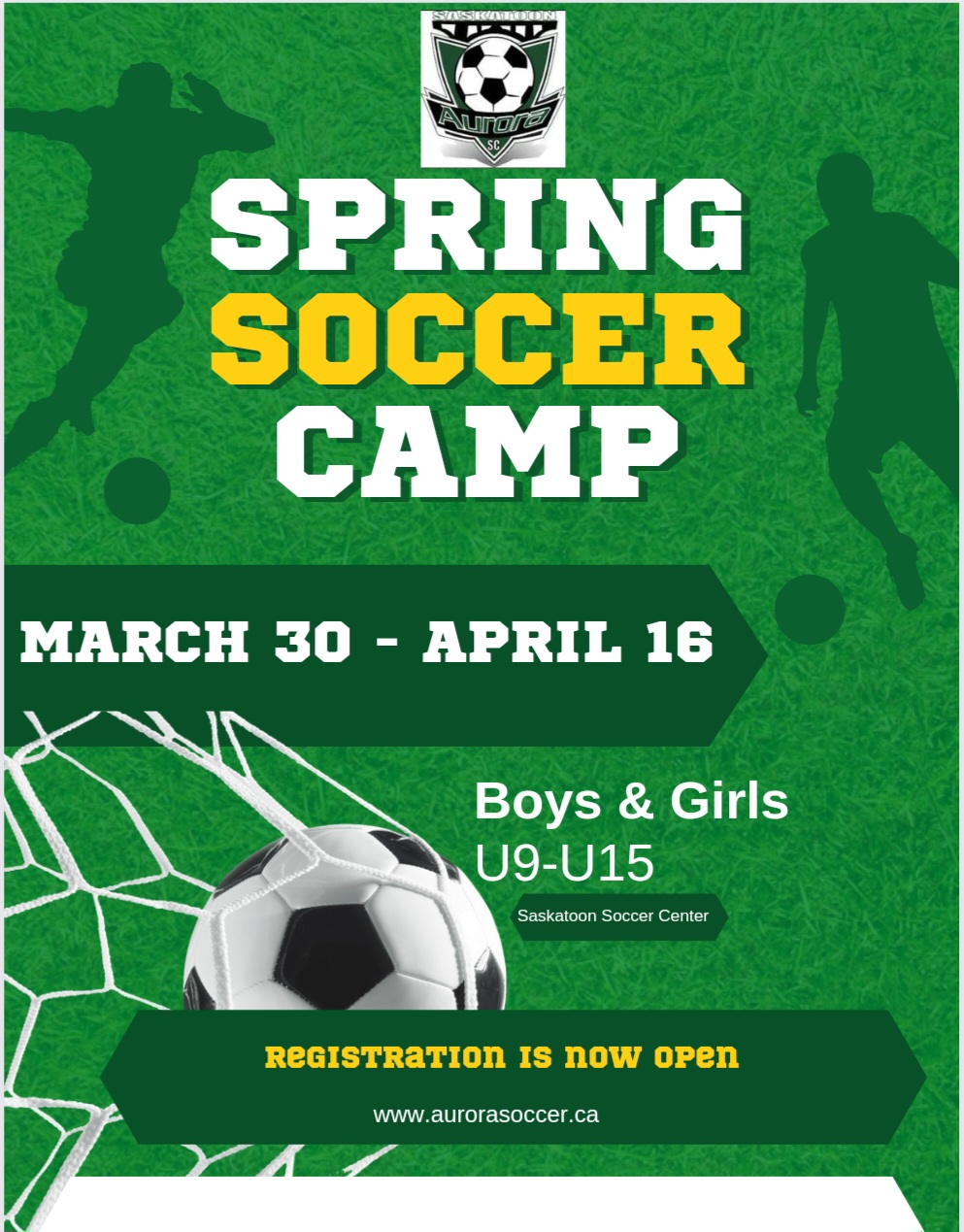 ---
Calling all Aurora Players!
We are excited to announce that registration is now open on our ramp registration system for our upcoming youth soccer camp, which will occur from March 30 to April 16. The camp is designed for committed players looking to be challenged, strengthen their development and stay active between seasons, ages U9-U15. The camp will focus on developing technical and physical skills in a fun and supportive environment.
Click here to register, and find out each age group's schedule for the camp. If you are already registered but still wish to join the camp please reach out to the Club Admin here: registrar@aurorasoccer.ca The practice time might change slightly, but the dates of the practices will stay the same. The camp schedule is also available below.

The camp is specifically tailored to each age group: U9, U11, U13, and U15 boys and girls. Each age group will have specific technical and physical goals and outcomes designed to help players progress at their own pace and level. The camp is 5 1h sessions designed to improve ball control, passing accuracy and range, shooting technic and power, tactical understanding, and positional skills. The camp will have some off-the-ball training to develop speed, agility, endurance, and strength to help players reach their full potential on the field. Our experienced staff coaches will be leading the camp.
Aurora's priority for this camp is to ensure that all players have a positive and enjoyable experience, staying active off-season and developing their soccer skills and fitness. We are non-profit and don't see any financial gain from this, but the high cost of the field rentals is reflected in the camp fees. All the training will be at the Saskatoon Soccer Center, 150 Nelson road.
We look forward to the end of the indoor season and welcoming you back to the outdoor season. Meanwhile, we hope the players stay active doing other sports or registering for the camp.
See the schedule below:
Age Group

Date

Time

Price

Location

Under-9 Boys & Girls

Born 2014 - 15

- Thursday Mar 30th

- Saturday Apr 1st

- Tuesday Apr 4th

- Tuesday Apr 11th

- Saturday Apr 15th

U9 Boys & Girls:

5:00 - 6:00 pm Mar 30

9:00 - 10:00 am Apr 1

5:00 - 6:00 pm Apr 4

U9 Girls: 5:00 - 6:00 pm Apr 11

U9 Boys: 6:00 - 7:00 pm Apr 11

U9 Boys & Girls:

4:00 - 5:00 pm Apr 15

$65 per registrant

All Fields take place inside the Soccer Centre, 150 Nelson Road

Kavia - Mar 30, Apr 1, Apr 4(Boys)

Trail App - Apr 15

Sherwood - Apr 4(Girls), Apr 11

Under-11 Boys & Girls

Born 2012 - 13

- Thursday Mar 30th

- Saturday Apr 1st

- Thursday Apr 6th

- Tuesday Apr 11th

- Saturday Apr 15th

U11 Boys & Girls:

6:00 - 7:00 pm Mar 30

10:00 - 11:00 am Apr 1

U11 Girls: 5:00 - 6:00 pm Apr 6

U11 Boys: 6:00 - 7:00 pm Apr 6

U11 Girls: 7:00 - 8:00 pm Apr 11

U11 Boys: 8:00 - 9:00 pm Apr 11

U11 Boys & Girls:

5:00 - 6:00 pm Apr 15

$65 per registrant

All Fields take place inside the Soccer Centre, 150 Nelson Road

Kavia - Mar 30, Apr 1

Trail App - Apr 15

Sherwood - Apr 6, Apr 11

Under-13 Boys & Girls

Born 2010 - 11

- Thursday Mar 30th

- Saturday Apr 1st

- Thursday Apr 6th

- Wednesday Apr 12th

- Saturday Apr 15th

U13 Girls: 5:00 - 6:00 pm Mar 30

U13 Boys: 6:00 - 7:00 pm Mar 30

U13 Boys & Girls:

11:00 am - 12:00 pm Apr 1

5:00 - 6:00 pm Apr 6

U13 Girls: 5:00 - 6:00 pm Apr 12

U13 Boys: 6:00 - 7:00 pm Apr 12

U13 Boys & Girls:

6:00 - 7:00 pm Apr 15

$65 per registrant

All Fields take place inside the Soccer Centre, 150 Nelson Road

Kavia - Apr 1, Apr 6

Trail App - Apr 15

Sherwood - Mar 30, Apr 12

Under- 15 Boys & Girls

Born 2008 - 09

- Friday Mar 31st

- Saturday Apr 1st

- Thursday Apr 6th

- Thursday Apr 13th

- Saturday Apr 15th

U15 Girls: 6:00 - 7:00 pm Mar 31

U15 Boys: 7:00 - 8:00 pm Mar 31

U15 Boys & Girls:

12:00 - 1:00 pm Apr 1

6:00 - 7:00 pm Apr 6

5:00 - 6:00 pm Apr 13

7:00 - 8:00 pm Apr 15

$65 per registrant

All Fields take place inside the Soccer Centre, 150 Nelson Road

Kavia - Apr 1, Apr 6, Apr 13

Trail App - Apr 15

Sherwood - Mar 31
Any questions, please reach out to the Club Admin: registrar@aurorasoccer.ca